(apologies to Hubert J. Farnsworth)
UPDATE: Ignore this post. After investigating the possibilities, I decided that there wasn't enough market for just a basic port of the original Jetpack.
---
We're shifting gears!
Instead of just releasing a small retro port as a milestone on the way to Jetpack 2, I suddenly realized with so much work done, taking a bit more work I could make a full game release out of it. Announcing the March 2010 release of a brand new & enhanced, web playable Jetpack!

From the press release:
Jetpack is a classic game from the MSDOS era (1993). Jetpack was the #1 top seller for its publisher out of 70 titles, and since its re-release as freeware in 1995 it has been downloaded over 1 million times from AdeptSoftware.com. Many people have fond memories of the family-friendly brand. The old DOS version of Jetpack continues to receive 2000+ downloads per month from our site, despite requiring DOSBox to run in new versions of Windows. The re-release of Jetpack to the web platform will add high res graphics, new levels, remastered sounds, realistic physics, and a pixelated "retro mode", as well as a level editor integrated into the level repository at JetpackHQ.com.

Adept Software was founded in 1997 and incorporated in 2004. Past projects range from development applications (PLC, Nautilus) to dating & social networking services (CyberSoulmate, NetRelate, ConnectMate). Our current focus is on web playable video games, specifically reviving classic retro games.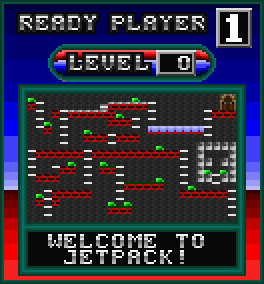 The title of this game will just be "Jetpack", like the original. As for Jetpack 2, the plan is for a release near the end of this year.   I'm pulling the retro mode out of Jetpack 2 – it will only exist in Jetpack 1.  The gameplay of Jetpack 2 will be significantly different, so you'll want to play them both.


It's great to be working toward a goal that's so close! We'll be staying true to the original gameplay, but with your help there will be several enhancements:
New high res graphics & sound effects
Music!
New levels!
Difficulty levels. Finally my mom will be able to play.
Improvements to controls and physics
Shiny new info panels & end level stats
The author & background story for each original level, including the official hintbook text
Web playable, embeddable, and downloadable versions
Retro mode with the original, old school graphics and sounds
I say "with your help", because I'm going to need help creating new graphics, music, sounds, and levels. More on that coming soon.
Adam